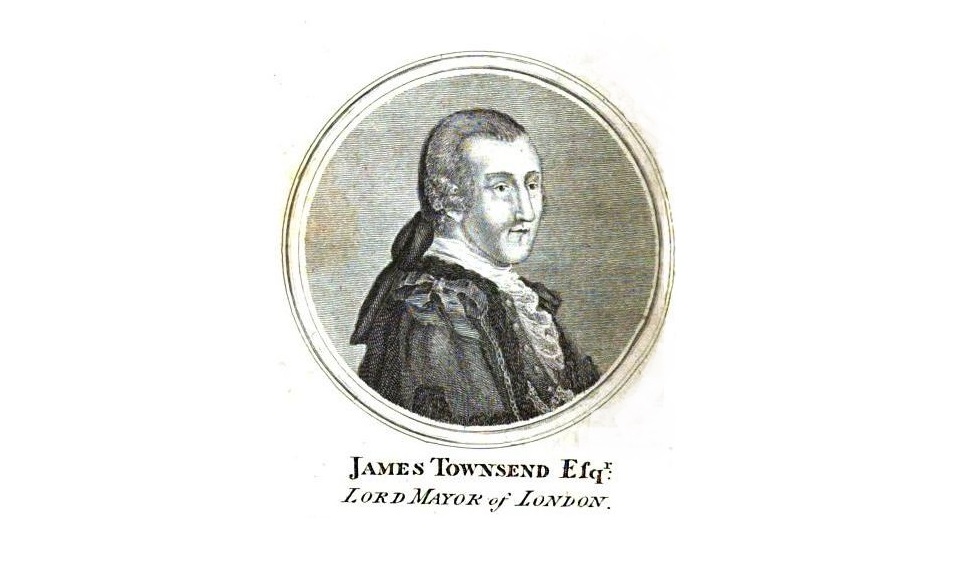 When politician James Townsend became Lord Mayor of London in 1772, he was arguably the first man of colour to achieve this honour. But his African heritage was probably unknown to many – maybe even himself; furthermore, his election was a flagrant manipulation of the electoral process; his attitude to Empire may have been at odds with his domestic reformist agenda, and he acquired a fortune through a private member's bill overriding existing inheritance law.
What are we to make of him?
The bare facts hint at a life of laudable achievement and considerable wealth:
Born 1737 into a politically active family of London merchants
Educated at Oxford University
Elected to Parliament 1767 as a Whig
Elected a City Alderman and Sheriff in 1769
Lord Mayor 1772-3
Died at the family home, Bruce Castle in Tottenham, in 1787
Furthermore, his paternal family provides no great surprises. His father was Chauncy Townsend, a man with interests in Swansea coal mining and the provision of supplies to Nova Scotia, and a given name best consigned to history. Chauncy was an MP for 22 years but apparently never made a speech in the House of Commons, and always supported whatever government was appointed by the King, as if it were his patriotic duty.
However, when we move on to James's maternal family and his own life, things become a little more complicated.
His maternal grandfather, James Phipps, came from a Wiltshire family of clothiers trading successfully with the East Indies, West Africa and New England. The mention of West African trading in the 18th century should ring alarm bells: Sure enough, in around 1703 the young Phipps began working for the Royal African Company of England, which traded out of Ghana, then called Gold Coast by European powers. This company transported more African slaves across the Atlantic than any other organisation in history, and is mainly associated with Edward Colston of Bristol. Phipps rose rapidly from a junior position, achieving the dizzying heights of captain-general and governor of Cape Coast Castle, the Company's African HQ. He married Catherine, the daughter of an African woman and a Dutch soldier based at Elmina Castle just along the coast. Their children, including James Townsend's mother Bridget, were brought up away from their parents in England from a young age. Phipps was then accused of embezzlement and sacked. He died, a relatively poor man, in 1723 at the Castle while awaiting his return passage. Despite his stated desire that Catherine move to England to be with their children, she remained in Ghana, where she became a prosperous businesswoman – and slave owner. She died in 1738.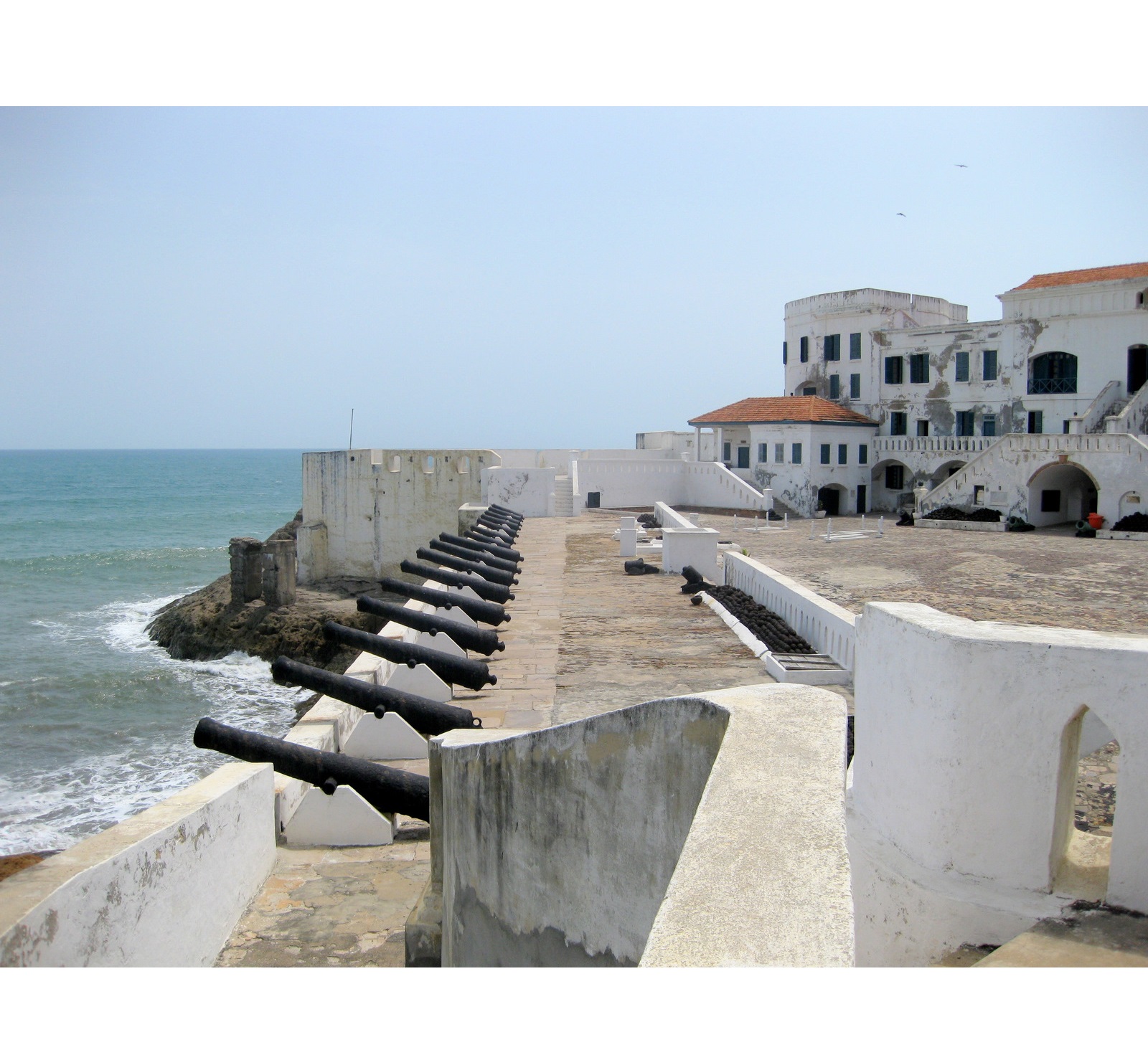 ← Cape Coast Castle, in modern-day Ghana, briefly home to Townsend's mother Bridget as a child and ruled over by his grandfather. Now a museum of the Atlantic Slave Trade.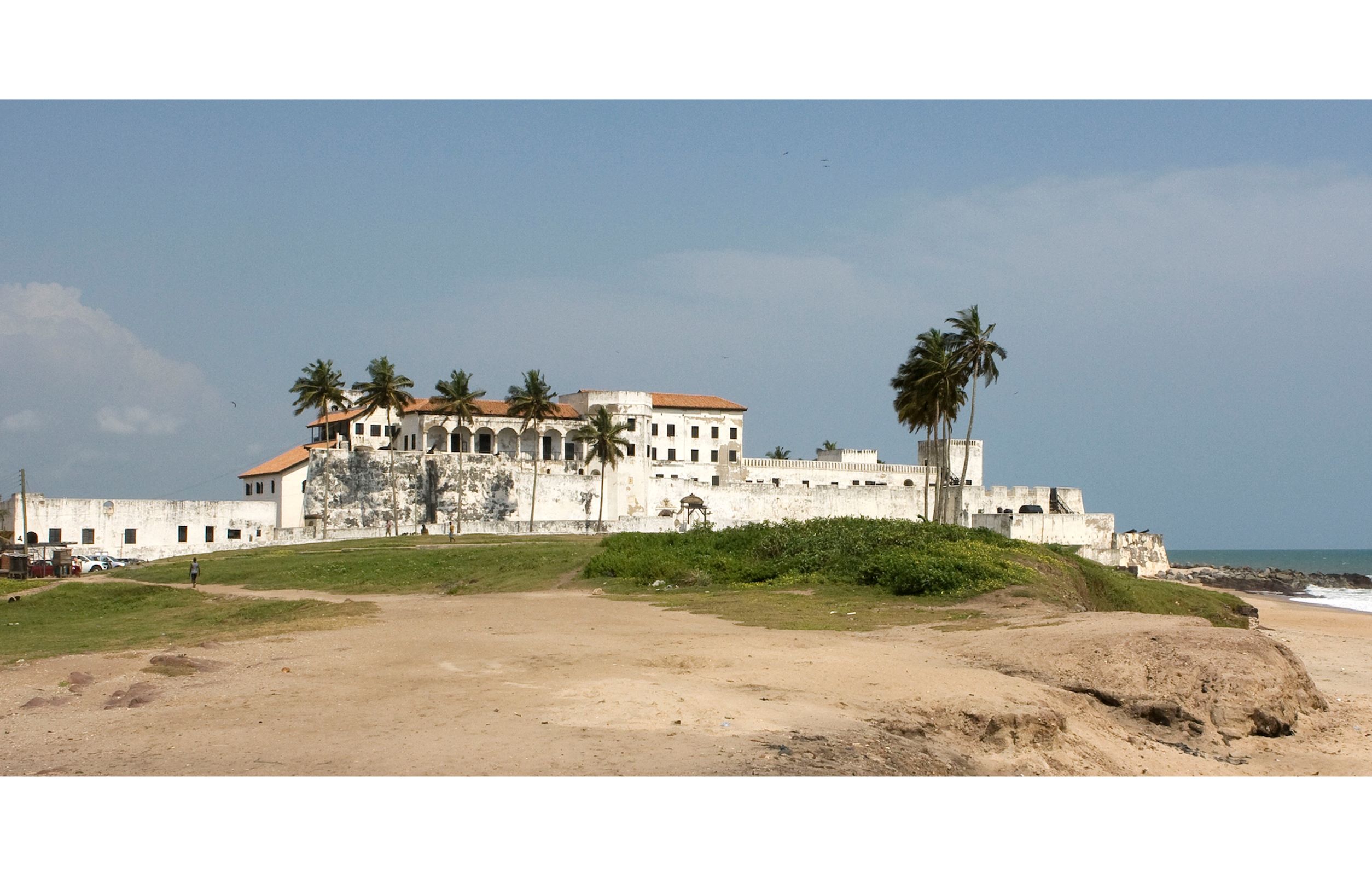 → Elmina Castle, a Dutch fort only about 5 miles west of Cape Coast Castle, and home to two of James Townsend's great grandparents. It too is now a museum.
In London, how Bridget Phipps and Chauncy Townsend met is unclear, but meet they did, and subsequently went through a 'Fleet marriage' in 1730. Those who married in this clandestine manner – using a cleric imprisoned for debt at the Fleet Prison – were usually trying to evade one or both sets of disapproving parents.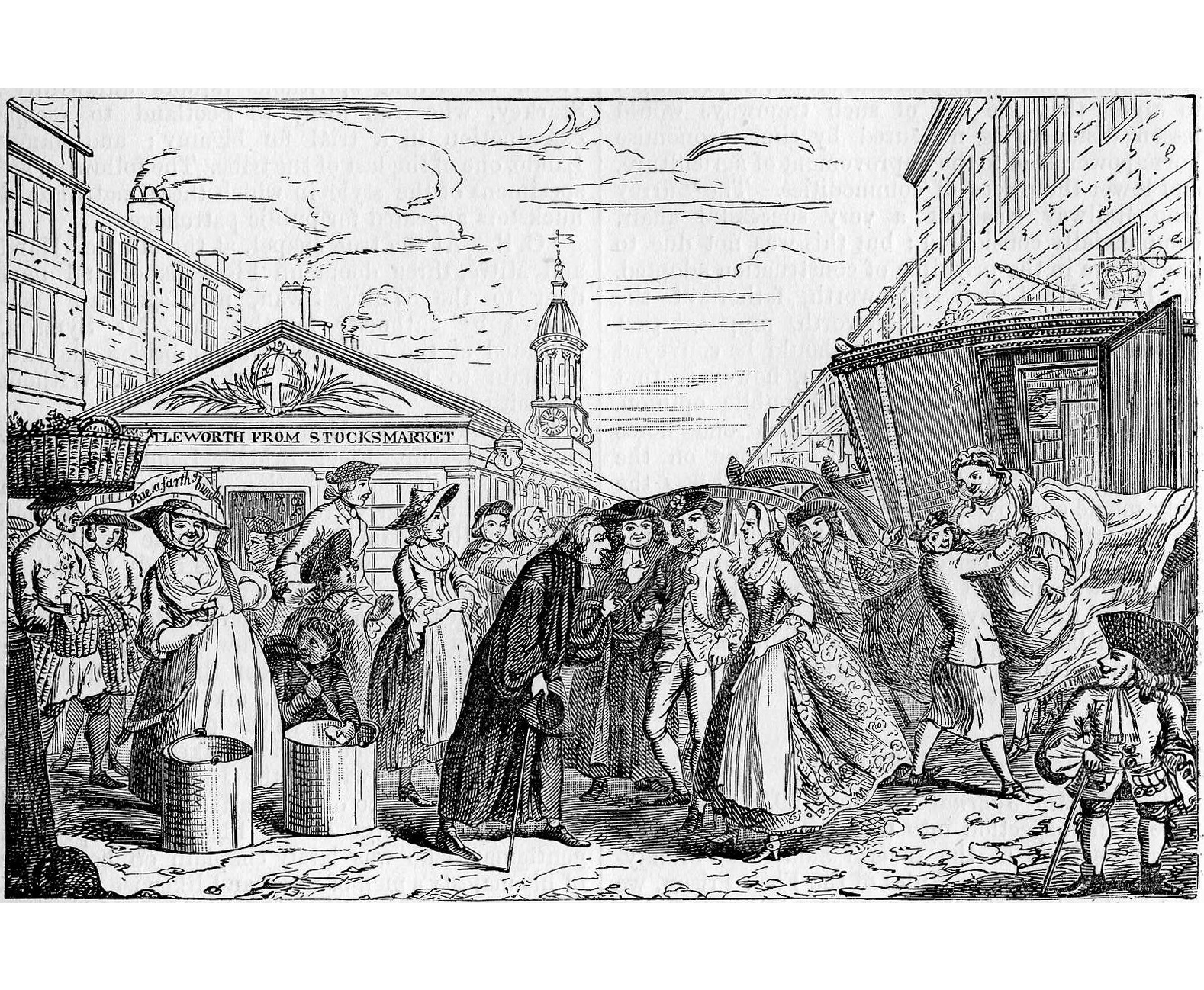 ← The shabby reality of a Fleet marriage. We can only speculate on why Chauncy and Bridget took this marital route, and whether it was connected in some way to Bridget's antecedents.
Fleet Prison, near Ludgate Hill, was closed in 1842 and demolished four years later
The couple went on to have at least eight children. James was one of their younger sons; thus faced with no likely inheritance, he would have had to make his own way in the world. Of course, marriage to a potentially rich woman would certainly be advantageous.
So it was that in 1763, at the age of 26, James married the magnificently-named Henrietta Rosa Peregrina du Plessis, illegitimate daughter and heir of the long-deceased 3rd Baron Coleraine. As an alien – she had been born in Italy to a French mother – English law had prevented her from inheriting the considerable Coleraine estate, which was thus being administered by the Crown. Chauncy, still an MP, got a private Act of Parliament passed in the year of his son's marriage to secure Henrietta's inheritance, which of course went straight to her husband. To modern eyes this inheritance law seems almost xenophobic, although in the days before free flow of capital, perhaps it was only designed to prevent wealth leaving the country.
Now a wealthy married man, and safely ensconced at the Coleraine family home, Bruce Castle in Tottenham, James could look to a parliamentary career himself. This was split over two periods: 1767-74, representing West Looe, and 1782 to his death, representing Calne. Both were rotten boroughs, the controlling families clearly looking favourably on James. Ironically given his constituencies, he became an ally of radical journalist, liberal and reformer John Wilkes and his Bill of Rights Movement, which demanded proper representation and an end to rotten boroughs. In his time in the Commons he was erudite, if not outstanding. The author and politician Nathaniel Wraxall (1751-1831) noted: 'Though he seldom mingled in debate, he manifested whenever he spoke a manly mind, great facility of expression, strong sense, combined with upright principles of action.'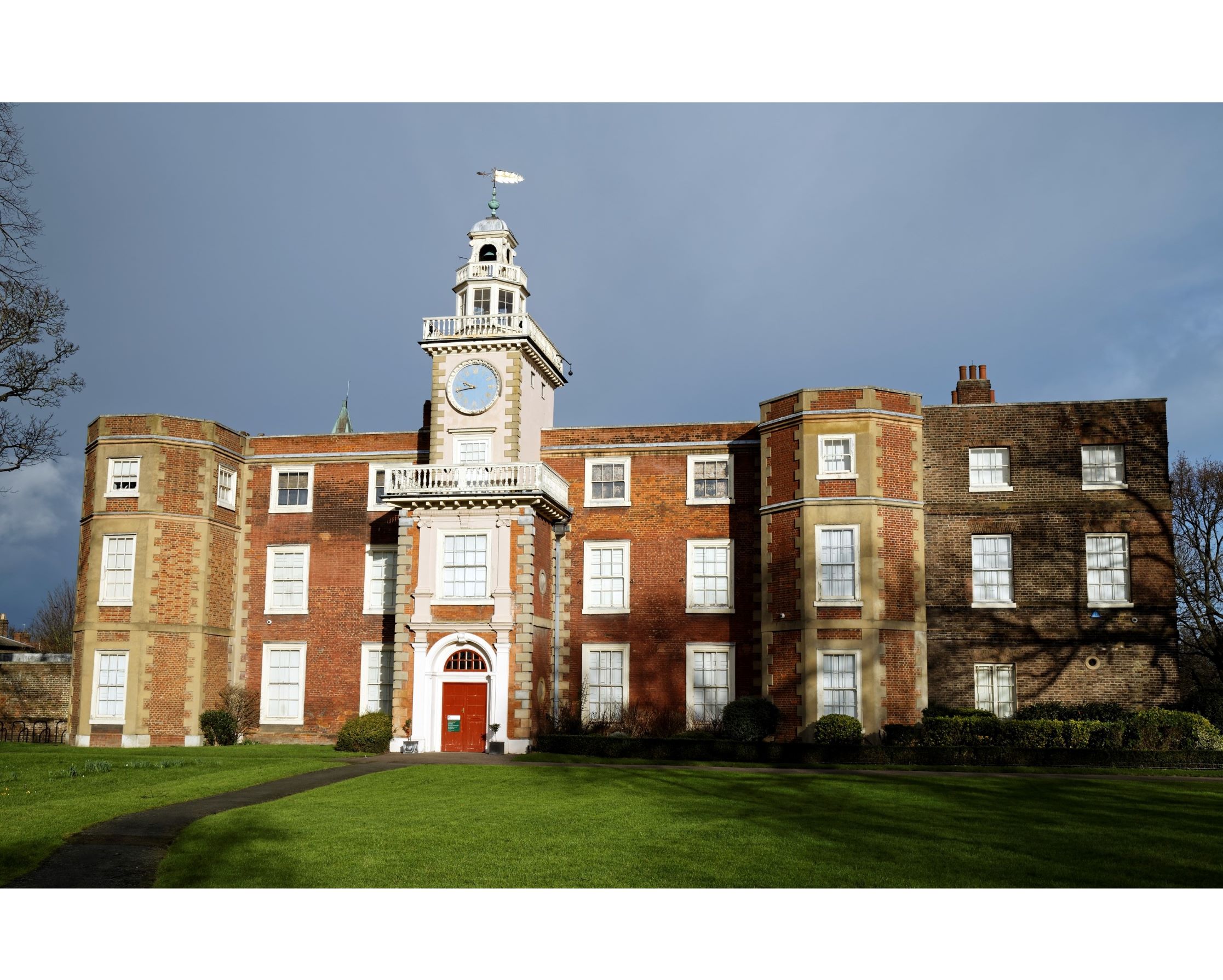 ← The stunning south facade and clock tower of Bruce Castle, a Grade I listed 16th century manor house with later extensions. Townsend acquired it through the inheritance of his wife.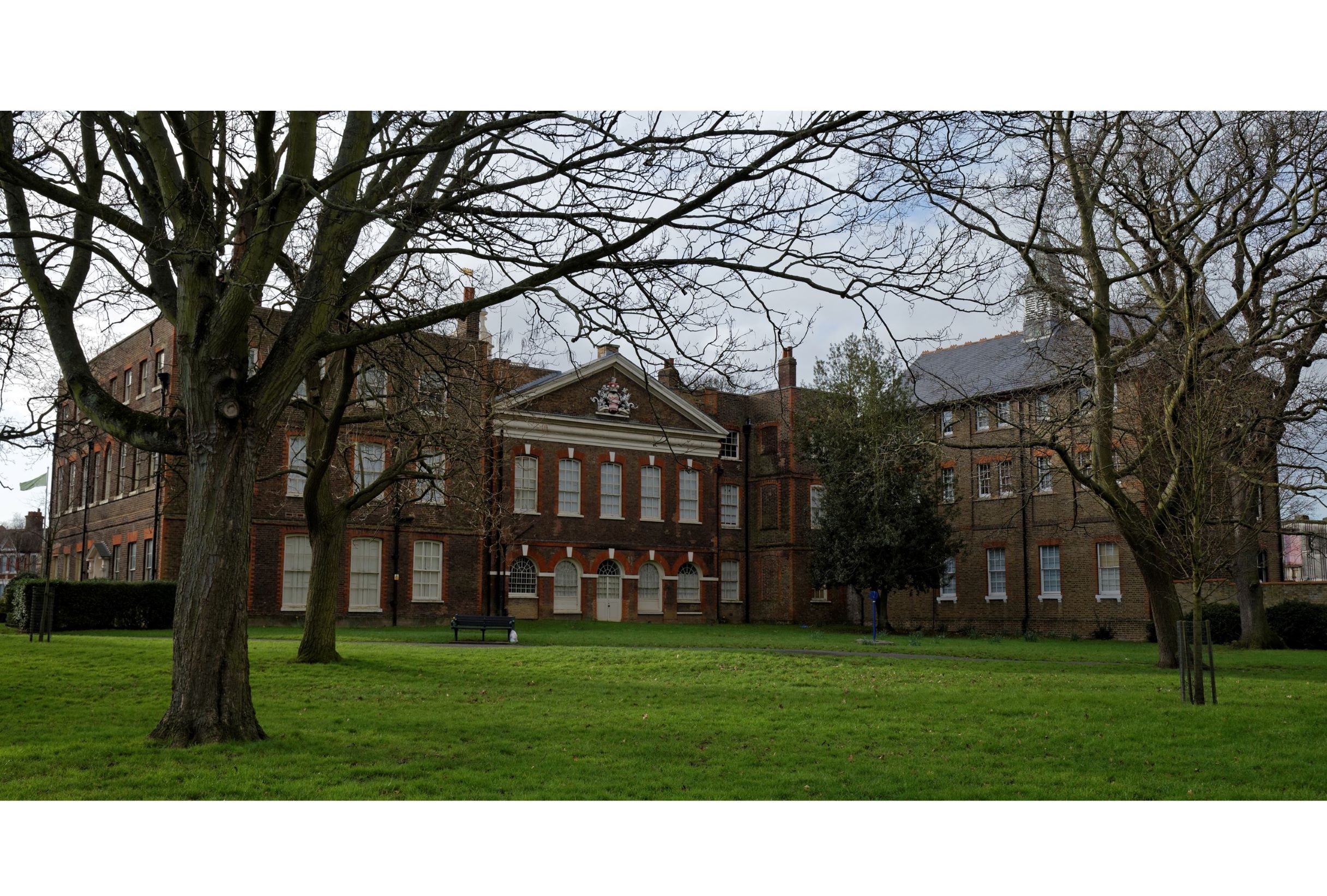 ← The north facade, showing the western extension built during its subsequent life as a school. The coat of arms in the pediment are of the Hare family – the Barons Coleraine.
Bruce Castle is now a museum.
From a 2021 perspective, the story so far suggests that James Townsend had some merit as a liberal politician. But it doesn't give the whole picture.
He went on to end his support for Wilkes, becoming instead an implacable opponent. This culminated in his most notorious hour: When he stood for election as Lord Mayor in 1772, his opponent was his former ally. Wilkes won the count – the electorate, then as now, consisted of the liverymen of the City Guilds. But electoral skulduggery by Sheriff Richard Oliver resulted in James Townsend being elected by the 26-man Court of Aldermen1 against the wishes of the liverymen. Riots ensued outside the Guildhall at this coup d'état du conseil, but to no avail. Wilkes was eventually elected Lord Mayor two years later.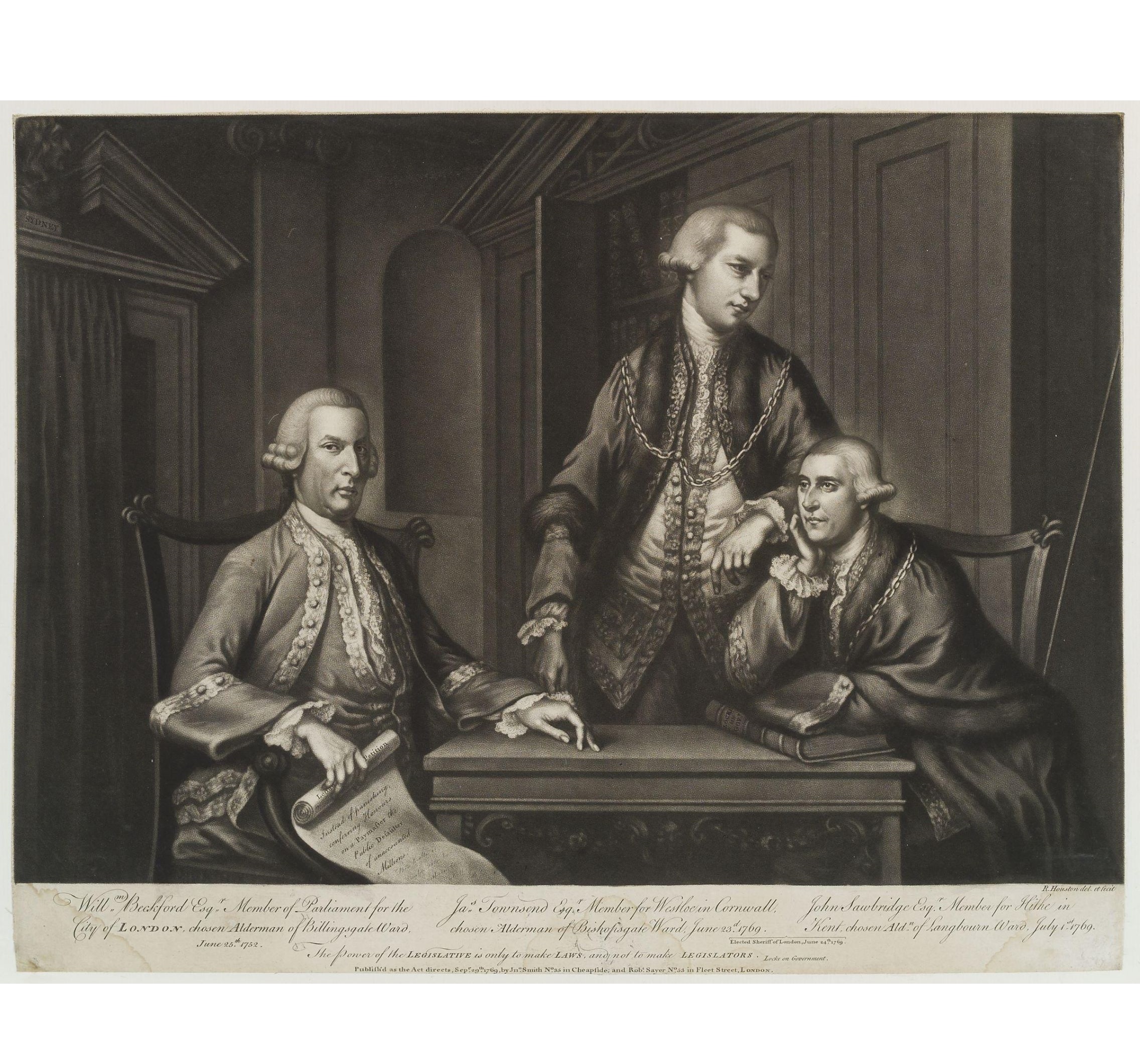 → A 1769 engraving showing James Townsend (centre) as an Alderman of the City. On the right is John Sawbridge MP, a leading Whig. On the left is William Beckford MP of the Beckford sugar dynasty and owner of 13 Jamaican sugar plantations and an estimated 3,000 slaves.
All three were considered in their day to be politically liberal, keen on liberty as long as it only applied to the British.
The engraving includes the statement 'The power of the legislative is only to make law, and not to make legislators' paraphrasing a statement in John Locke's Second Treatise of Government (1689), and deeply ironic given the circumstances surrounding Townsend's subsequent elevation to Lord Mayor.
One of James's last actions in Parliament was also rather less liberal than one might have expected: He spoke and voted against the impeachment of former de facto Governor-General of Bengal, Warren Hastings (1732-1818) on charges of corruption and extra-judicial killing. Support for Hastings might be interpreted as support for the absolute promotion of the national interests of the colonizer over those of the colonized.
He died soon after the Hastings vote, with little of the Coleraine fortune remaining. He had made a number of costly changes to Bruce Castle, which led to the impoverishment of the estate. It was auctioned off soon after his death.
Throughout his political career, the question of James's African heritage appears not to have been raised – either it was unknown, or it was ignored. I would suggest the former, as I fear his opponents would have seen political capital in revealing the truth. James himself would not have met his grandmother, who died in Ghana soon after his birth in London, and may have been ignorant of her origins.
Does James Townsend qualify as the first black Lord Mayor? I'm not sure I'm qualified to judge, nor if that's even the right question to ask. My belief, for what it's worth, is that he is a curious footnote in the story of the City of London rather than a significant figure in black history. It is difficult to think of him with any great admiration, and he has left no significant legacy. Charlotte and James Phipps and their daughter Bridget are perhaps more intriguing figures, with the basis of the couple's relationship, the reasons behind James's dying wish that his wife go to England, her subsequent success in Ghana, and Bridget's experiences in London all being worthy of further investigation.
As for the City of London … since the first mayor held office in 1189, it has yet to knowingly elect a Lord Mayor from any ethnic minority. Since the first female Lord Mayor was elected just 31 years ago, only one other woman has occupied the post. It is fair to say that the pace of change has been glacial.
However, in January 2021 the City authorities announced an intention to remove the statue of William Beckford from the Guildhall, the seat of City power. Of considerable artistic merit, it is likely to go to a museum – if the Government's newly announced legislation to prevent such removals doesn't produce a ministerial intervention. This legislation is an attempt (claim the Government) to protect statues from 'woke worthies and baying mobs'. Given the fierce white-conservative-middle-class independence of the City, I doubt they could in any sense be described as a baying mob, and their reaction to being classed as woke worthies could be very entertaining.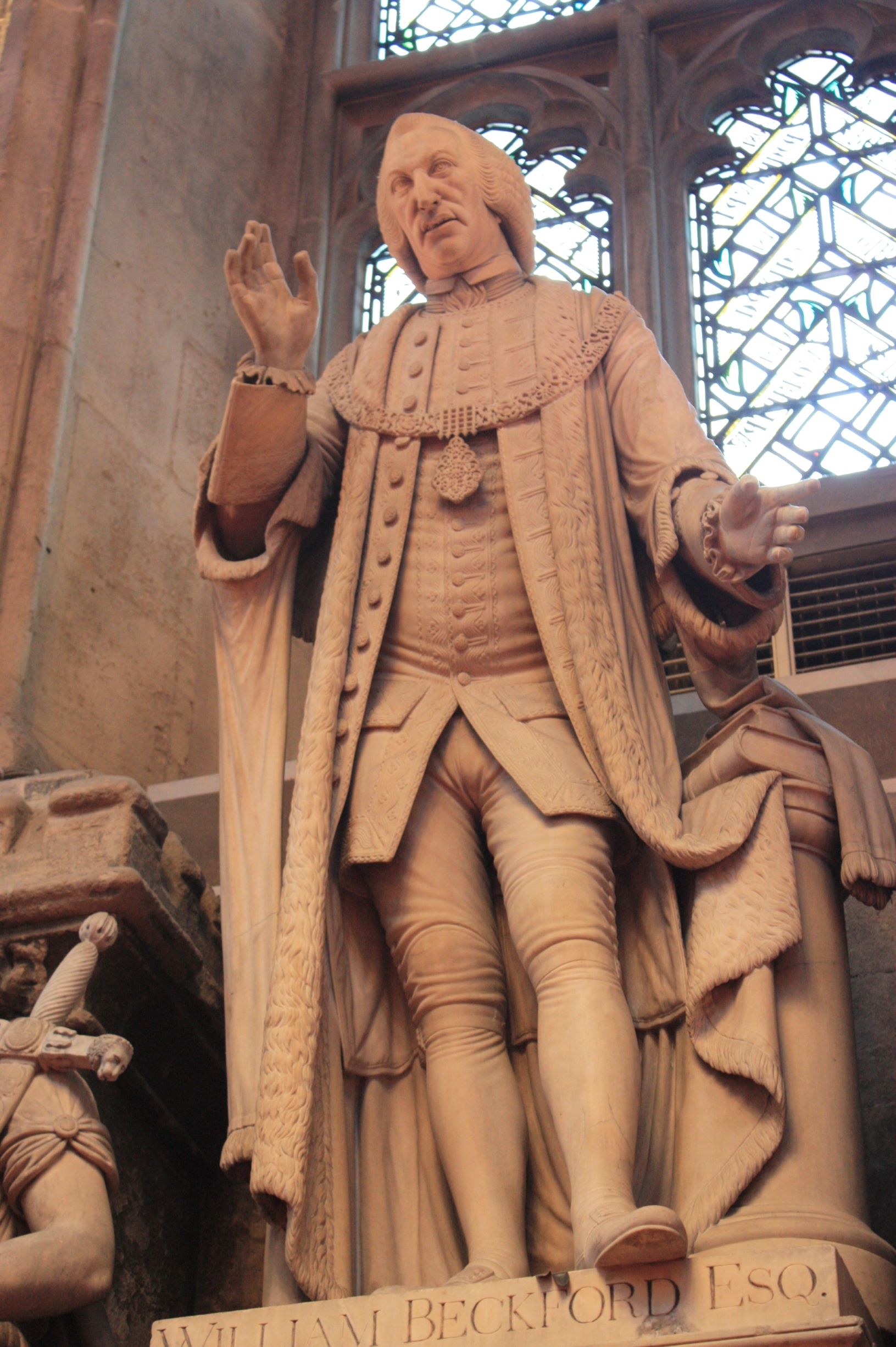 I hope this decision is the start of a journey for the City, rather than just a passing nod to the BLM movement.
← The Guildhall statue of William Beckford, erected after the slave-owning MP broke with protocol by demanding King George III remove his reactionary advisors.
---
Notes:
1 From 1550 to 1978 there were 26 Aldermen, due to the anomalous existence of the Bridge Without ward. There are now 25.
Nearest Stations:
Bruce Castle: Bruce Grove, White Hart Lane
Guildhall: Bank, St. Paul's, Moorgate
Cape Coast Castle & Elmina Castle in Ghana are only accessible by road.
Selected Bibliography:
Latsch, Dr. W. (2017), From Gold Coast to Gold Coach: James Townsend, a Black Lord Mayor of London in the Eighteenth Century, Available online here. Accessed 22 Jan 2021.
Member Biography: James Townsend (1737-87), History of Parliament Online, available here. Accessed 23 Jan 2021.
Private Acts of Parliament are listed at the Government legislation website here.
Credits:
Medallion image of James Townsend: Published in London Magazine, 1772. In the public domain.
Cape Coast Castle: © Rjruiziii, used under licence (CC BY-SA 3.0)
Elmina Castle: © Damien Halleux Radermecker, used under licence (CC BY-SA 2.0)
Engraving of a Fleet Marriage: Unknown origin. In the public domain.
Both pictures of Bruce Castle: © Acabashi, used under licence (CC BY-SA 4.0)
Engraving of Beckford, Townsend & Sawbridge: By Richard Houston (d.1775), published by John Smith of Cheapside. In the public domain.
Guildhall Statue of William Beckford: © Stephencdickson, used under licence (CC BY-SA 4.0)