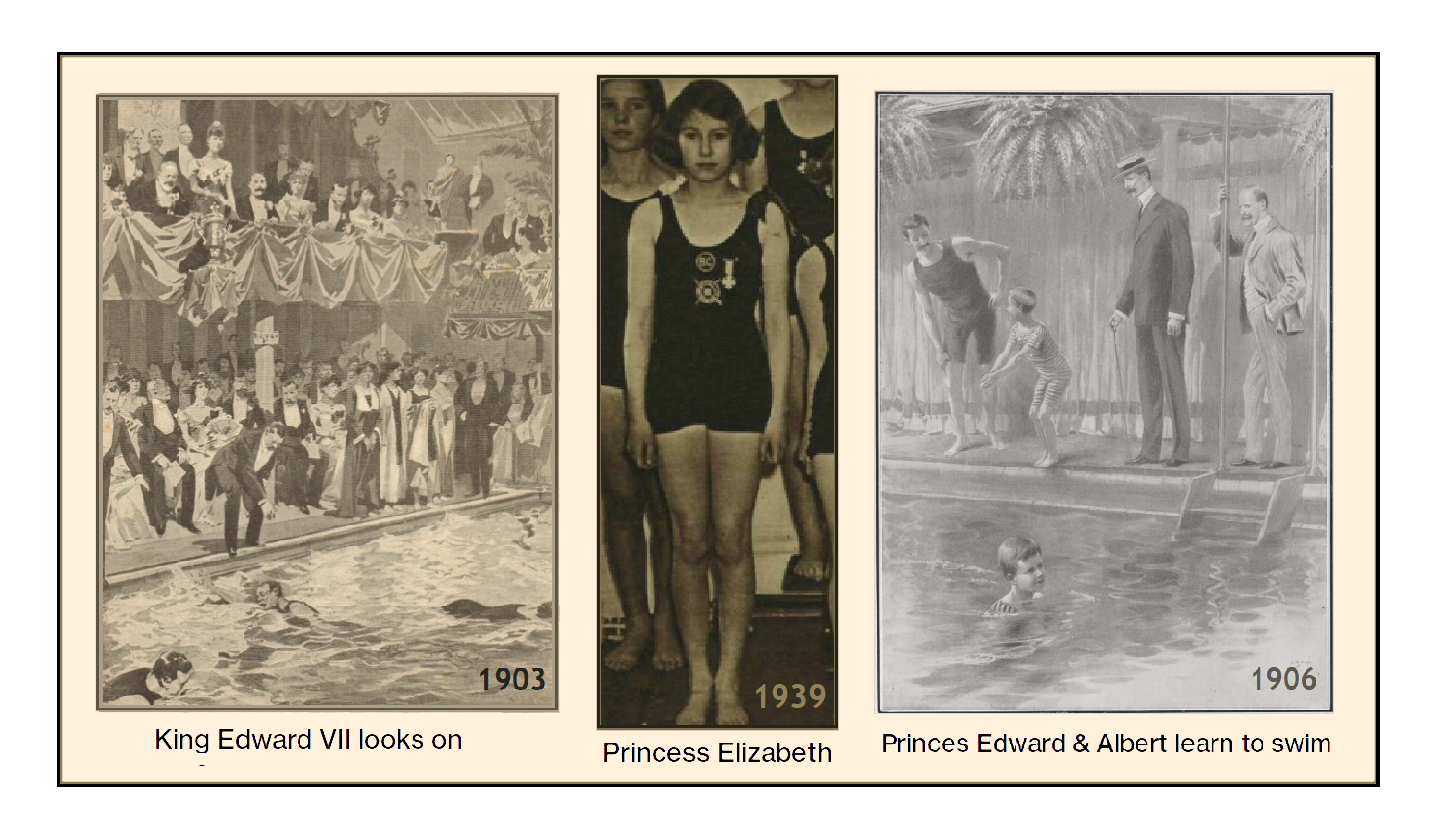 A while ago I wrote an eccentric post on the Eccentric Club proving that, despite its name, it wasn't very eccentric at all. For my second look at the gentlemen's clubs of London, I examine one so exalted kings and their children swam and played squash there, yet so forward-thinking women were admitted from its opening day. It saw fire, murder, pioneering motorists, libel actions, Mark Twain and much else besides in its 87-year history.
1891-4: The gentlemen's club with more than just armchairs and cigars
'The revival of ablution along classic principles' is the pretentious mouthful the Globe newspaper used to describe the formation of the Bath Club, helpfully providing a brief history of bath houses in ancient Rome. In truth, the club was established because, apparently, what a gentleman needed most in London was a private place to go swimming, so he didn't need to mix with the unwashed masses in public baths. It was the idea of two men. One was Lord Desborough, politician and sporty type, who climbed the Materhorn three times and participated in the only Oxford and Cambridge boat race ever to finish in a dead heat. The second was the amiable Sir John Henniker Heaton, journalist, MP and formidable campaigner for postal reform. The first step for the two men, needless to say, was to form a committee.
The club was planned to be exclusive, fashionable and aristocratic, 'where smart London takes its swimming exercises', as a newspaper put it. It was to be owned not by the members, but by shareholders of the Baths Club Company Ltd. This arrangement was to be the club's undoing, but more of that anon.
The committee eventually paid £34,000 (£3 million today) for the Marquess of Abergavenny's house at 34 Dover Street, Mayfair. The ballroom became an 80ft pool with diving boards; also added were Turkish baths, a gymnasium, squash courts and fencing galleries. It opened in 1894 and women members were welcome from the outset – a radical step, making it the first 'cocks and hens' club in St. James's. However, there were limits: Ladies had their own entrance in Berkeley Street and access to sports facilities only three afternoons a week.
The pool quickly became a popular venue for water polo, inter-university swimming competitions and, in 1898, water wrestling. The squash courts hosted amateur and inter-club cup competitions. Ladies' nights – when ladies could watch men competing – proved a hit. Fencing exhibitions and the earliest displays in England of Japanese martial arts also featured.
→ High society looks down on a water polo match at the Bath Club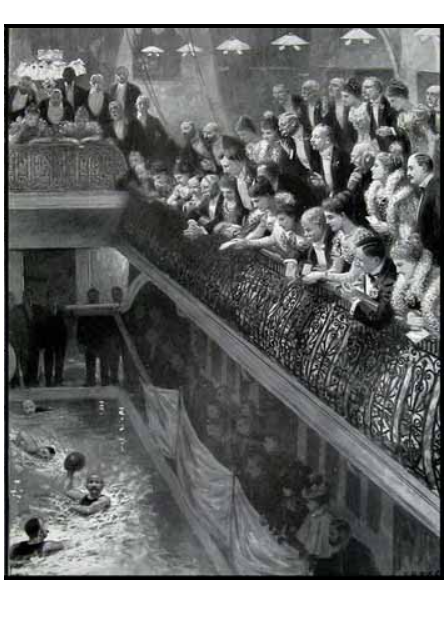 1902: The Terror of Loch Aweside
In early December Esdaile Campbell-Muir, pioneering motorist, was fined for causing an obstruction by leaving his car unattended outside the club for fifty minutes. The PC responsible for the arrest stated in court that Campbell-Muir offered a bribe of half-a-sovereign to avoid being charged. Campbell-Muir denied this, claimed the club hall porter was keeping watch on the car, and that it wasn't causing an obstruction. The magistrate was unimpressed, dismissing as irrelevent the porter's watching-brief, and stating that 'owners of motor-cars seem to think themselves so important that they can do things other people cannot do', and that Campbell-Muir had no more right to leave his vehicle there than a costermonger leave his barrow. He was fined forty shillings.
These words would have come as no surprise in Campbell-Muir's native Scotland, where he was notorious for his extraordinary arrogance. Known as the 'Terror of Loch Aweside', he abused neighbours, shot at anglers and threatened farmers.
Anger management was only one of his failings. He ran through his considerable inheritance then allegedly sank his own steam launch to collect the insurance. In 1911 he eloped with the young May Montgomery in one of his exotic cars after pushing her governess into a ditch. They married at a motor garage then left for Florida, where he was fined $50,000 for slander. He absconded from the US without paying, and reappeared in London newspapers in 1921 as he tried to divorce May on the grounds of adultory, still giving his address as the Bath Club. He then became a ship's engineer, and the Terror of Loch Aweside died almost penniless in London in 1951.
→ Esdaile Campbell-Muir and his wife May.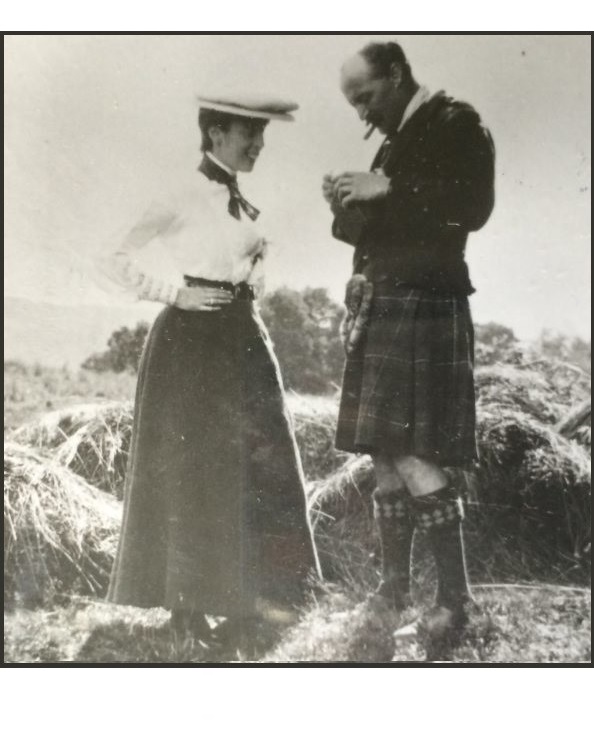 1903-1939: Royalty makes a splash
The royal family soon began visiting. King Edward VII attended a charity gala in July 1903; many years later, a taxi driver recalled that he had frequently driven 'Bertie' back to Buckingham Palace from the club in the wee small hours; a footman would pay the fare with a 6d tip. The Prince of Wales (later George V) became an honorary member in 1904. Members' children were eligible for free lessons, and soon his sons Edward (Edward VIII) and Albert (George VI) were at Dover Street learning to swim. In 1908 Queen Alexandra visited, bringing the Dowager Empress of Russia along for good measure. The membership waiting list reached an estimated 18 years.
When George V ascended the throne, he became patron. His son Edward started both his 20th and 30th birthdays with a 7am swim. He was also a finalist in a squash tournament in 1920, but in 1923 acquired a self-inflicted black eye when he hit himself with his own racquet. He was still entering tournaments as late as 1929, and played at the club even as the abdication crisis loomed.
The royal connection continued into the next generation. The late 1930s saw Princesses Elizabeth and Margaret learn to swim at the club. At the 1939 children's swimming gala, Elizabeth won a challenge shield while her sister took the juniors' challenge cup.
→ The Queen (later the Queen Mother) leaves a gala, 1937. On the right is club secretary John Wilson-Taylor.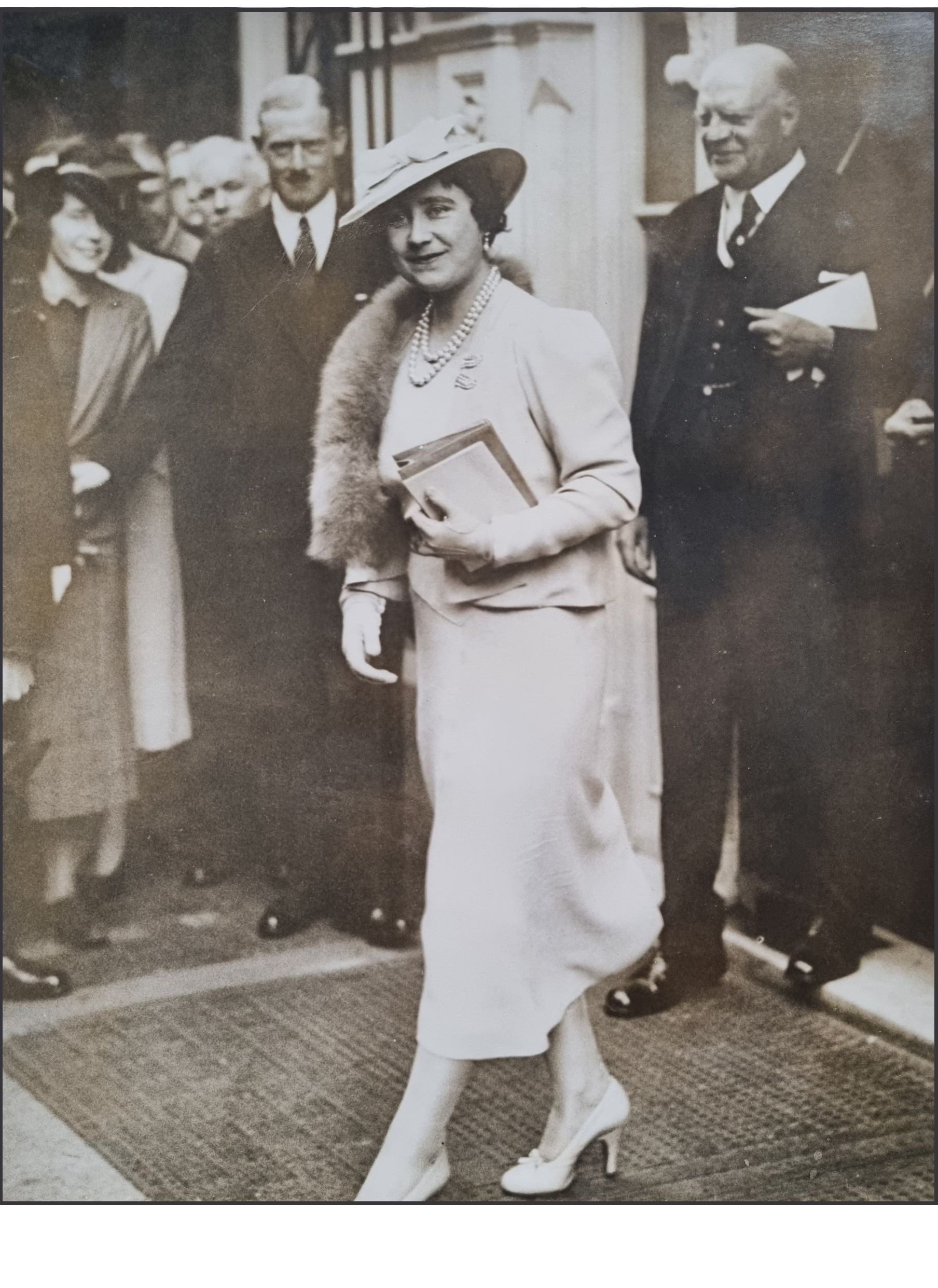 1907: Rifles on the roof, Mark Twain in a bath robe
In May the club opened a rifle range on the roof, above the squash courts. Lord Roberts fired the first round – scoring a bullseye – and went on to say how much he hoped similar ranges would open in offices and factories for the proper defence of the country – it was necessary 'for a man to have confidence in his weapon'. Weeks later fate presented these scions of Empire practicing their aim with a tempting target: Far below them, author and radical anti-imperialist Mark Twain got into the habit of walking from his hotel to the club dressed only in a blue bathrobe and slippers.
→ Lord Roberts takes aim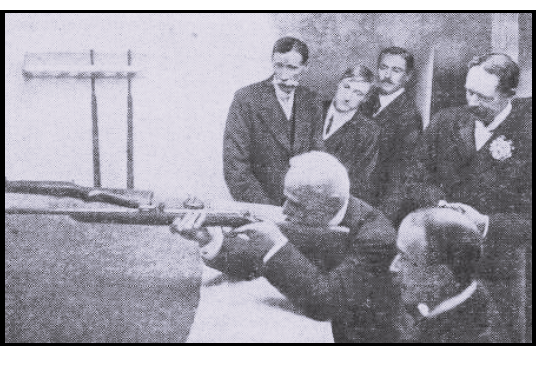 1908: Murder! The 'Bath Club Tragedy'
Clubs are not all about the nobility. One Monday night in July, Frenchman Pierre Alletru, 26, sauce cook, met his death at the hands of German Georges Bæckenstrass, 30, pastry cook. British newspaper headlines ran 'Foreigners Fight at the Bath Club' as if it had been an exhibition boxing match.
Relations between Alletru and Bæckenstrass had broken down, and at 9pm on the evening in question, the German told his boss he wished to quit. Minutes later the two cooks argued over the theft of one of Bæckenstrass's freshly-baked biscuits. They agreed to take the matter outside, exiting through the service entrance onto Berkeley Street. Minutes later, Alletru was dying – stabbed in the heart with a pastry knife. Within three days the German was also dead, committing suicide in prison even before Alletru's inquest opened. At the inquest, Bæckenstrass was said to have had a series of operations and a malady (unspecified) that meant the other cooks tended to avoid both him and his pastries. Bæckenstrass was declared guilty of murder, his own inquest finding that he took his own life while of unsound mind.
Truth be told, cooks never seemed to add lustre to the club. Charles Ferrarone, employed a few years later, was dismissed after being found guilty of stealing from work. He had been discovered carrying home potatoes and guinea-fowl eggs in his waistcoat pockets, tomatoes, lemons, bacon and cheese in the lining of his coat, sausages in his top pocket and, providing an opportunity for a double entendre I am not going to let pass, a cucumber in his trouser pocket. He must have been one of the few men in history seemingly pleased to see the policeman arresting him. He was fined twenty shillings.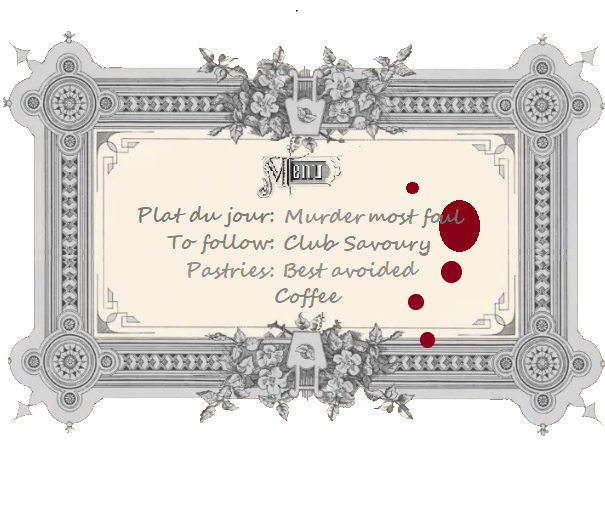 To the end, cooking at the club was said to be 'traditional', which I take to mean dull, heavy and uninspiringly English. A favourite often mentioned over the years was the Club Savoury, consisting of mushroom and roe on toast, with bacon and marrow fat. Perhaps fortunately, I have found neither detailed recipe nor illustration of this dish.
1909-13: Lions and Libraries and Boers
One of the more bizarre meetings at the club was in 1909, when Queen Alexandra encountered four lion cubs. These had been rescued by a Mr. Roberts in Somaliland when they were two days old – which was kind of him – after he had shot their mother, which was not. The meeting took place on the roof; perhaps the marksmen there were secretly hoping for a few easy big game kills. Alexandra was at the club to watch the annual women's swimming gala.
Speaking of Africa, the club once had a reciprocal arrangement with the Rand Club of South Africa, where the infamous Jameson Raid against the Boers of the Transvaal was plotted. Legend has it that the arrangement was terminated when a member walked into the Bath Club bar, saw a non-member there and promptly complained. The problem, he explained, was not that the individual was a visitor from the Rand Club, but that the blighter was the man who had stolen his wife while the couple had been staying in Johannesburg.
In 1913, women's suffrage was a subject making headlines. However, in this area the Bath Club was regressing, the committee deciding to restrict the rights of women members. Truth newspaper summarised this attitude as 'you do not pay as well as male members, and therefore … [y]ou must take what it suits us to give you.' One bone of contention was the conversion of the library into (men only) bedrooms, and the conversion of half the ladies' dining room into a replacement library. This was particularly insulting: The old library was once the ladies' card-room, but that had been voluntarily sacrificed by the ladies for the greater good. A resolution against the plan was lost because (1) chairman Lord Desborough 'miscounted' the votes and (2) the meeting was scheduled to ensure most women would need to leave before the end. The plans went ahead. Much later, in 1932, admission of new female members was suspended.
1914-18: Club caught up in court-martial as Mr. Lanchester loses his brolly
In May 1918 the club featured in the widely-reported court-martial of Lieutenant-Colonel R.M. Mackay, former Ugandan police chief. He was accused of permitting conscripted men to continue peacetime jobs by moving them to the Military Foot Police and issuing passes which allowed them to dress as civilians while being paid by the army. This was for the convenience of close friends and his club; one lady acquired two gardeners, another got a chauffeur and a cleaner. At the Bath, Mr. West (porter) and Mr. Mason (cashier) both continued in position despite being called up in 1917.
The accused was held at the Tower of London for a month, before being found guilty and dismissed the service. As part of the same investigation, club secretary John Wilson-Taylor was fined £10 but cleared of any intention to deceive. This didn't seem to do his career any harm, as he stayed with the club and in 1922 received a gold cigarette case for 25 years' loyal service. Among subscribers to the gift were four royal princes, with the Prince of Wales making the presentation.
Just as the disgraced Mackay was being tried, Fred Lanchester – engineering genius, motor car pioneer and inventer of operational research – was occupied with firing off multiple letters regarding his missing umbrella. The brolly in question had been stolen, or perhaps lost, at the Bath Club while he was dining with Sir Arthur Duckham, director of aircraft production in the last months of the war. You'd think the pair of them had more pressing matters to deal with than an AWOL brolly.
1920s: Hell-raising antics not recorded – nothing to read here
With youthful princes often at the club, it became popular with the hell-raising rakes of the 1920s. The newspapers called it the 'swagger club'. Stephen Hoare suggests it was one of the few clubs that abandoned deference and civility, instead encouraging the carefree antics of wealthy young aristocrats intent on partying. Regrettably, it seems that none of these antics made it into print.
1925-6: Captain Wright's wrong writing paper
Club member Captain Peter Wright had impeccible credentials – he went to Harrow and Oxford – but was sacked as assistant secretary at the Supreme War Council in the last months of the war after the British Secret Service warned his employers about certain unspecified 'indiscretions'. He developed a grudge, and as an author his exposés almost got him prosecuted under the Official Secrets Act. Then, in his second book Portraits and Criticisms, Wright suggested the late Prime Minister W.E. Gladstone was want 'in public to speak the language of the highest and strictest principles and in private to pursue and possess every sort of woman'.
The dead cannot be libelled, but Viscount Gladstone, a surviving son of W.E. and also a member, wrote to the club secretary, calling Wright 'a liar, a cad and a foul fellow'. He also wrote to Wright, calling him a coward and a fool. Wright replied using similar language, but made the mistake of using club writing paper. The letters were leaked to the press and the correspondence became public knowledge; the letterhead associated the club with the controversy. The committee, pressed by Gladstone, expelled Wright without giving him a hearing. The scene was set for a 'legal imbroglio … worthy of a John Galsworthy novel' as Priscilla Roberts puts it.
Wright sued the Baths Club Company Ltd. for wrongful expulsion, making the peculiar claim that the committee represented 'money, athletics and snobbery'. Court exchanges became heated. The judge termed the abuse 'the language of the pantry'. The Star newspaper was found guilty of contempt for a pro-Gladstone article. Eventually, the jury awarding Wright £100 for losing the 'great social advantages' of the club, as the court termed them, and £25 for loss of reputation. Then Wright made the Wildean blunder of suing Gladstone for libel. This case proved that Wright's books were full of factual errors; he admitted he did little research, claiming that if he tried to verify his own opinion, it would paralyse his writing and history would never be written. Lily Langtry, whom Wright claimed had an affair with Gladstone, grandly stated that 'in the old days a thing like this would have been settled by a horsewhipping in the Haymarket'. The judge, in a blistering if linguistically bewildering summing up, asked 'is it not worthwhile to consider … whether if history is to be made from the tittle-tattle of the Upper Tooting tea tables it would not be better that this history should not be made at all?' Wright's reputation was destroyed, although he was not horsewhipped in the Haymarket, or anywhere else come to that – no doubt to Mrs. Langtry's regret.
1929: Enter the curse of Tutankhamun
The Hon. Richard Bethell, heir to Lord Westbury, was secretary to Howard Carter who had conducted the famous excavations on Tutankhamun's tomb. He was found dead lying across his bed at the club, aged 46, after an evening playing cards. He had been in good health and his death was unexplained; there are those who consider that he was smothered in his sleep by some unknown entity. Bereft, his ailing father took his own life just weeks later.
1930s: Exit Hollywood royalty
Club officials are alleged to have taken exception to Johnny Weissmuller for not swimming like a gentleman. The Olympic gold medal-winning swimmer and actor famous for playing Tarzan on the big screen was asked to leave. The incident that led to his ejection is probably the one recounted by Robin McDouall, a guest at the club at the same time as Weissmuller. While swimming, McDouall encountered Weissmuller and saw elderly members startled when 'at the request of his host, he beat his chest, gave the Tarzan cry and plunged in from a trapeze'. Frightening the natives, particularly when the natives were the English nobility, was just not cricket.
1941: Fire! The Bath Club destroyed
In February 1941, 14-year-old Princess Elizabeth became the first person to receive a Royal Life Saving Society junior lifesaving award, after intensive training at the club. A little over a month later, on 31 March 1941, a fire starting in the gymnasium spread rapidly via lift shafts. Nine female servants in bedrooms on the sixth floor managed to get down the main staircase to safety despite the floor below them being ablaze, and some members had to jump from first floor windows. Sadly, Acting Flight Lieutenant William Airey failed to escape in time. The building was almost completely destroyed, but the swimming pool itself, largely intact, was used as a fire defense reservoir for the rest of the war. The fire was accidental; there were no air raids that night.
Misfortunes come in threes, they say. Only weeks later the club chairman, the Earl of Kimberley, was killed during an air raid, having travelled to the capital to attend an emergency directors' meeting to discuss its future. Sir John Wilson-Taylor, knighted in 1934, retired as secretary later in 1941 – likely distraught at the destruction of a lifetime's work – and died just two years later. In hindsight, this triple whammy marked the beginning of the end, despite the club surviving another forty years. It never had such excellent sporting facilities again; what had made it different was gone for good.
1941-1958: The Bath plays musical chairs with American airmen
Initially, the club moved in with the financially-distressed but magnificently-housed Conservative Club in St James's Street. In early 1947 it moved again, to 41-43 Brook Street, after members donated 2,000 ration coupons for the club to acquire hand towels. Brook Street had been bought from another ailing club, the Guards, and the front railings still contain the crests of three guards regiments that fought in the Crimea in the 1850s.
Just four years later, in a surprising twist, the Bath bought out the Conservative Club – acquiring the nickname 'Lava-Tory' in the process – and moved back to St. James's Street. It leased Brook Street to the US Air Force as a leave centre for NCOs and other ranks. This offered an American-style home-from-home for US airmen stationed in the UK. A jukebox was placed in the ballroom.
→ 74 St James's Street, nearest the camera. An attempt to sell it as a luxury home for £60 million in 1995 failed. Partially redeveloped, it is now luxury offices. In the distance is historic St James's Palace.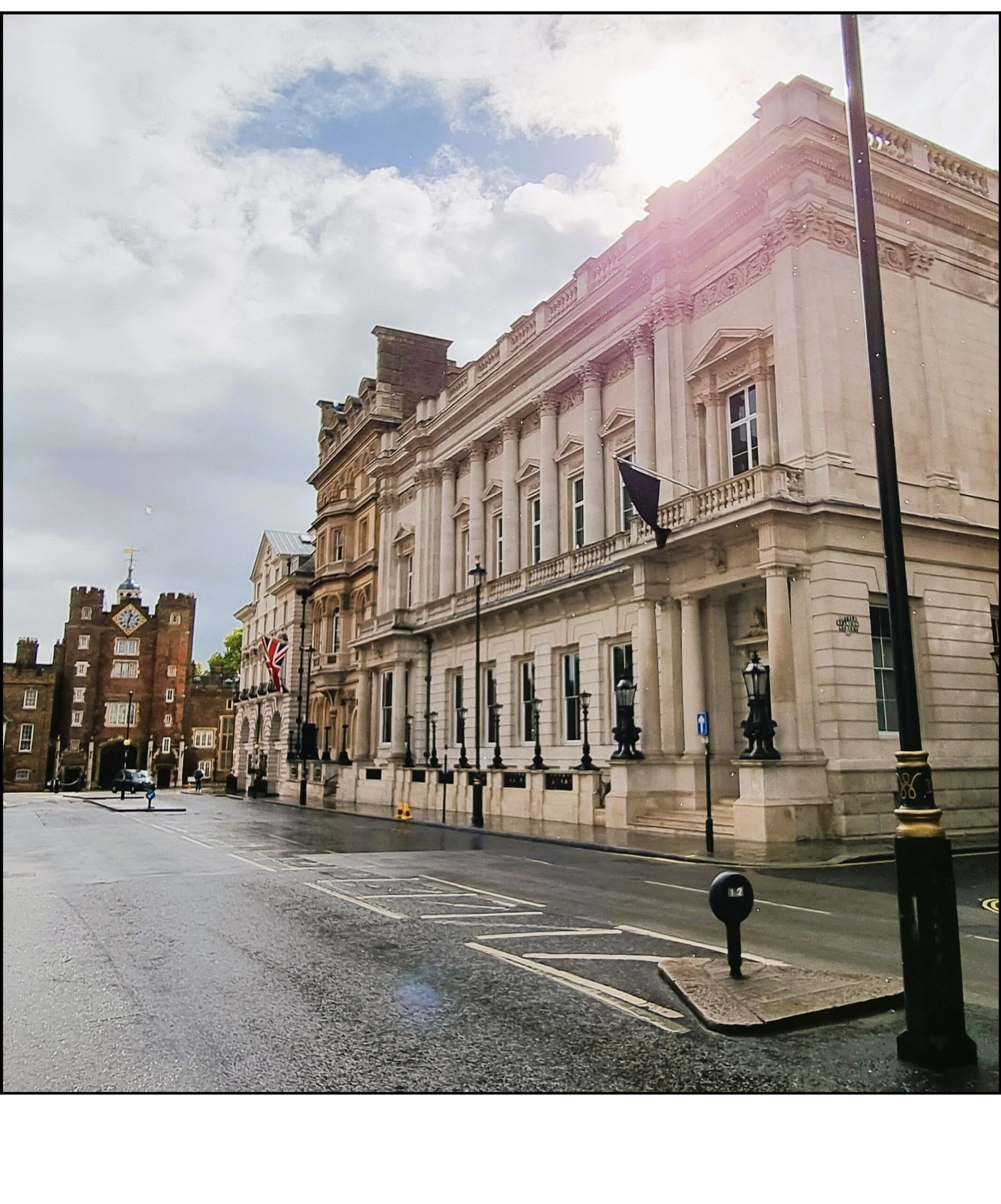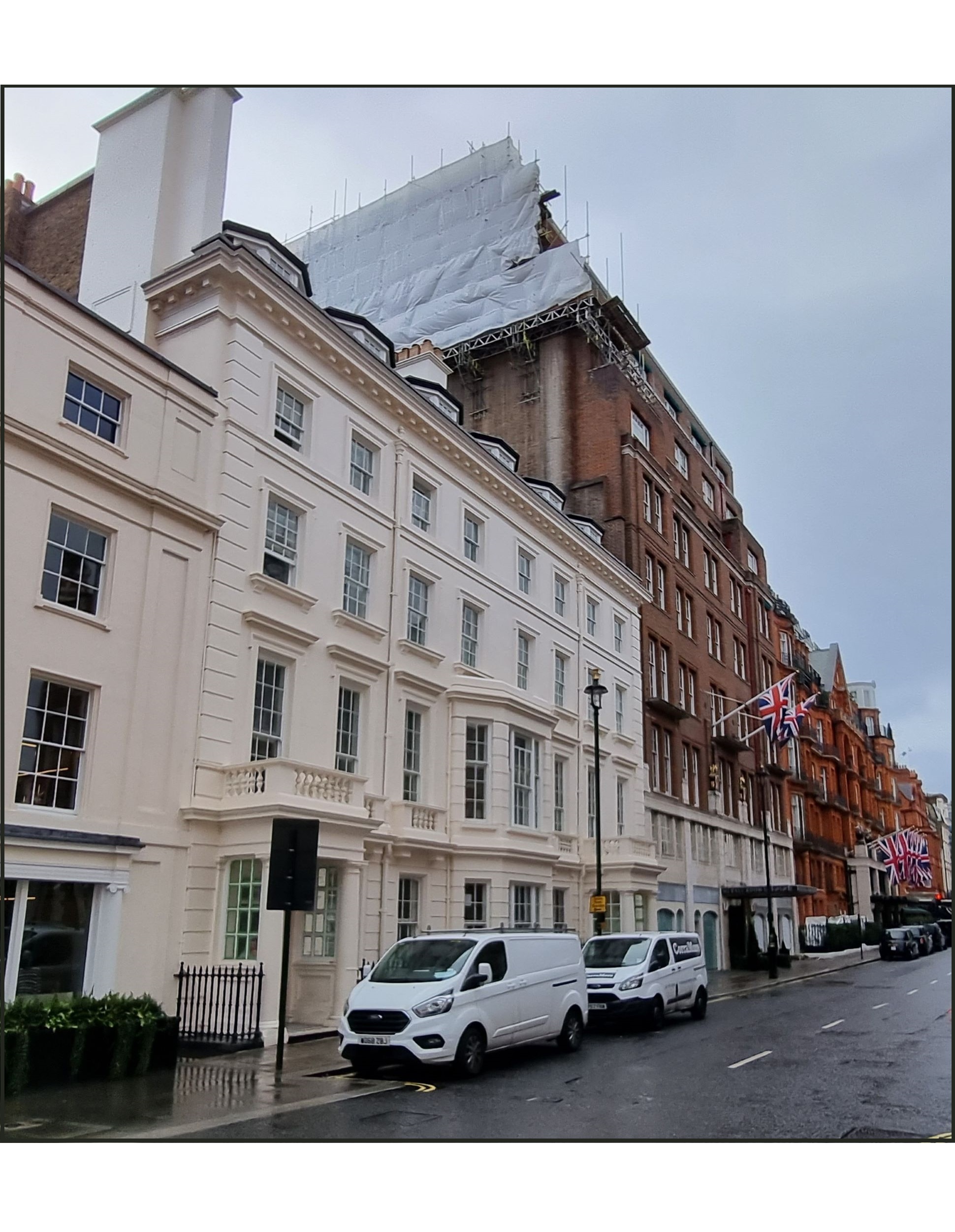 The Bath stayed at the vast St James's Street address, with its 170 staff, long enough to demolish the grand staircase to create a bigger dining room. But money was tight, and when in May 1959 the US airmen and their jukebox moved to Bayswater, the Bath moved back to the more economical Brook Street. With limited space, 9,000 volumes inherited from the St. James's Street library and a large marble statue of Disraeli were auctioned off. There was space at Brook Street for a sauna with Finnish birches wielded by a brutal attendant and, of course, squash courts. Some traditions are sacred.
← Home of the Bath Club twice: The stuccoed cream frontage of 41-43 Brook Street today, with the famous Claridge's Hotel beyond. The building now consists of luxurious serviced office suites, and is described by letting agents without irony as a 'private club-style business centre'.
1960s: I spy a spy
By the early 1960s the Bath still had 2,000 members, but the clubs of St. James's barely featured in gossip columns and society pages. Privilege was out of favour; surviving clubs kept a low profile. Scandals were to be avoided.
John Vassall didn't get the memo. He was unmasked as a Soviet spy in 1963 and the club appeared repeatedly in newspapers, journalists questioning how he could afford the club's subscription on his income as a lowly clerk at the Admiralty. Vassall allegedly spent hours at the bar, buying rounds for the great and good, and admitted that 'I liked the club. Often I entertained my lady friends there' – a somewhat disingenuous statement given he had fallen into a Soviet honeytrap exploiting his homosexuality. He also claimed that First Lord of the Admiralty Lord Cilcennin, a fellow member, had helped him obtain the posting to Moscow that proved his downfall. The club did not come out of this story smelling of roses.
1981: Financial skulduggery forces closure
While other clubs faced financial issues, many forced to merge or close, the Bath was comfortably solvent. Unfortunately, its financial health was its achilles heal. The story goes that a controlling interest in Baths Club Company Ltd. was obtained by certain members without the knowledge of their brethren. The shares were probably undervalued; as with the demise of the Eccentric Club five years later, there was a fast buck to be made in liquidating the institution before a declining membership – 1,400 and falling – wiped out its capital. At a meeting of members the committee made noises about the club's supposed financial difficulties while admitting assets significantly exceeded liabilities. Suggestions from members for saving it were dismissed.
The end was swift; it closed with little notice at the end of June. An auction of contents was held in the club in September. This was thorough – the lots apparently included the kitchen sink. Many items were purchased by former members as keepsakes; one member of twenty years bid on his favourite wing leather armchair, claiming 'sleepy memories' of it. Prices ranged from £6 for a towel horse to £11,000 for a work by the enigmatic painter William James. The sale of the well-stocked wine cellar followed in October, and the Bath Club passed into history.
Postscript
The Bath and Raquets Club at 49 Brook's Mews, adjacent to 43 Brook Street, was founded eight years after the Bath Club closed. In concept it sits somewhere between that and a fitness centre, with squash courts, steam rooms, a gym, a wood-panelled lounge and a bar. It is also the most exclusive and expensive sports club in London, with an annual membership fee of £7,500 in 2019. Here, wealth seems to count far more than social pedigree – there's no room for the Mackays or Aireys of this world. It is also small, with just 300 members, and none of them are women; the fair sex is only allowed in to view the squash courts from galleries. In this niche-est of niche markets, behind a discrete British Racing Green door, it seems gender equality has gone backwards.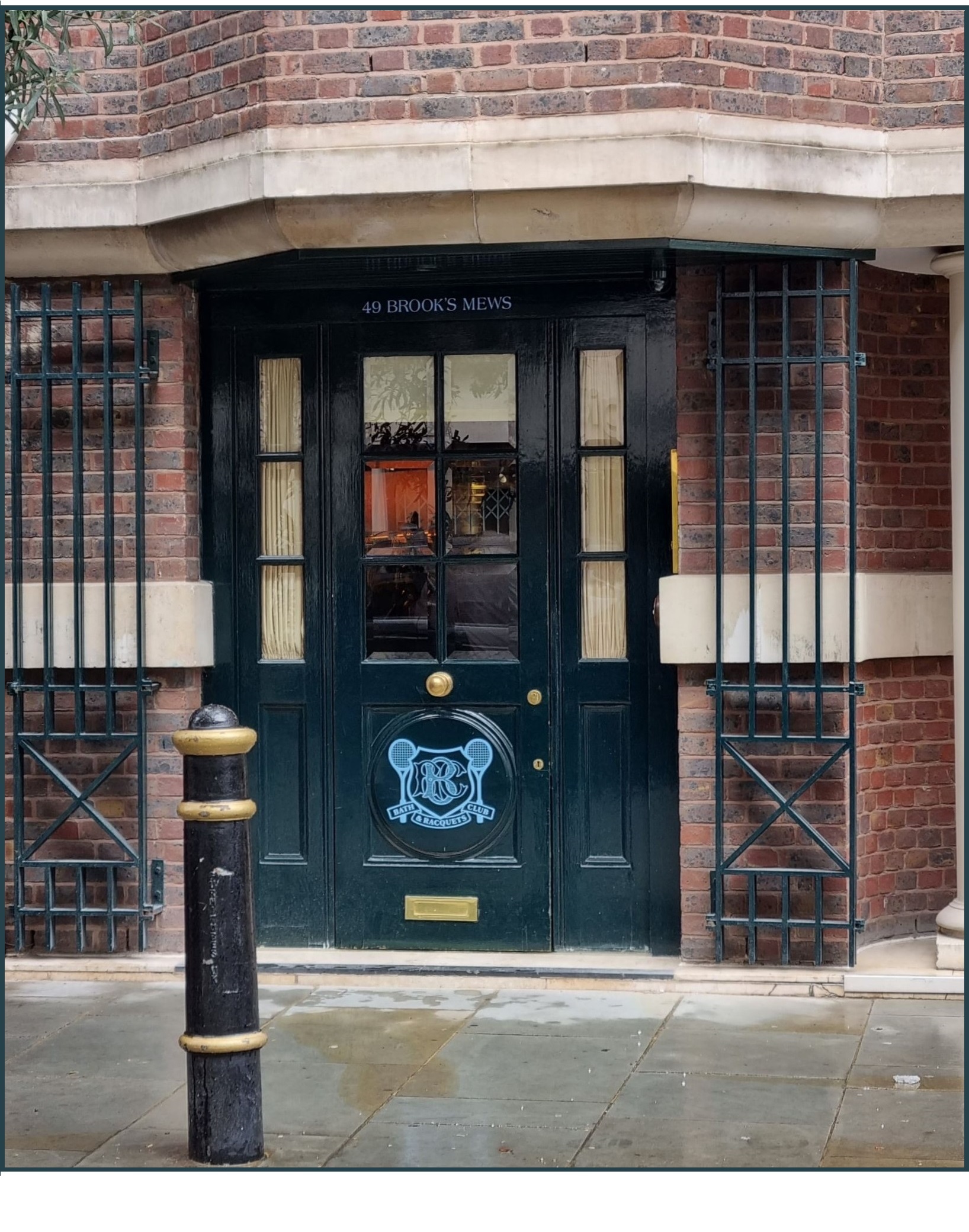 ---
Nearest Stations:
34 Dover Street (building demolished): Green Park
74 St. James's Street: Green Park
41-43 Brook Street: Bond Street
Selected Bibliography:
Graves, C. (1963), Leather Armchairs, London, Cassell
Hoare, S. (2019), Palaces of Power, Cheltenham, The History Press
Lanchester, F (1918), Letter to Sir Arthur Duckham, Ministry of Munitions Concerning Lanchester's Umbrella Stolen from the Bath Club. Available via JSTOR here (subscription required). Accessed 19 Sept 2022.
McDouall, R. (1974), Clubland Cooking, London, Phaidon
Macintyre, L. (2018), Recalling the terror of Loch Aweside, Oban Times, 8th Feb, Available online here, accessed 18 Sept 2022.
Roberts, P. (2001), "Tasker H. Bliss and the Evolution of Allied Unified Command, 1918: A Note on Old Battles Revisited." in The Journal of Military History, vol. 65, no. 3, 2001, pp. 671–95. Available via JSTOR here (subscription required). Accessed 19 Sept 2022.
Credits:
Modern views of St. James's Street, Brook Street and Brook's Mews: © 2022 The author
1937 view of Queen Elizabeth leaving the club: From the author's collection.
All other images are believed to be in the public domain