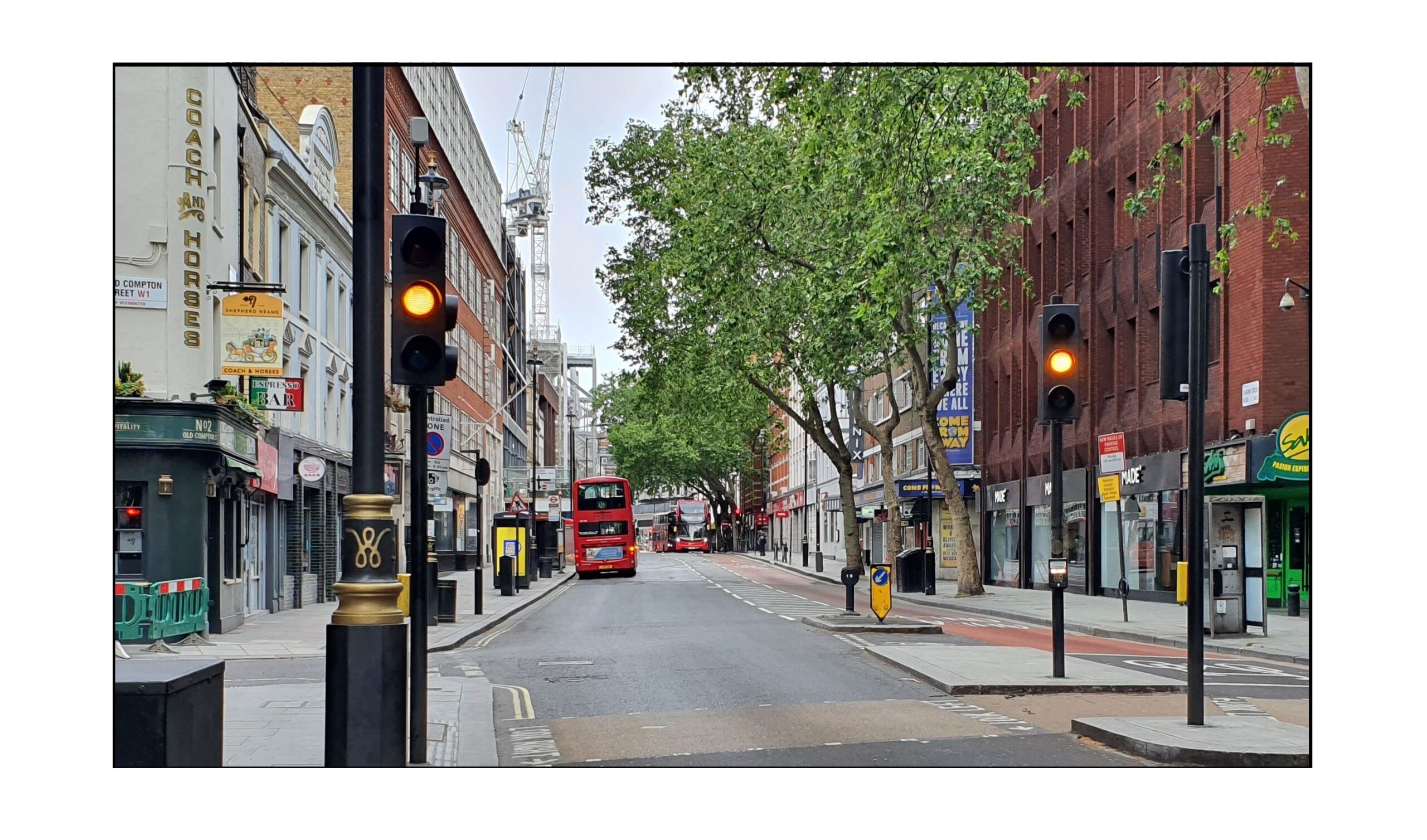 Some time ago I was drifting aimlessly on Wikipedia, when I happened upon a tiny gem of a fact in a quiet, unregarded and dusty corner. I was so surprised that I immediately headed into the West End to see if it was true. It was. Mostly.
In a traffic island in the middle of Charing Cross Road, opposite the junction with Old Compton Street, on the precise line of the boundary between Camden and the City of Westminster, lies a grill. Beneath this grill runs a utility access tunnel – in the featured photograph above, the grill is beyond the yellow traffic bollard, with Old Compton Street to the left. If you look carefully – which means getting on your hands and knees, probably to the surprise of those crossing the road – you will see that a few feet below the surface, on the wall, the tunnel is helpfully labelled. Twice, in fact – once in paint and once on a badly corroded enamel name plate. 'Little Compton Street' , they proclaim. But there is no Little Compton Street. You are definitely in Charing Cross Road, definitely opposite Old Compton Street. On the other side of Charing Cross road, opposite the entrance to Old Compton Street, is just a yard used as a terrace by a restaurant, with a 1980s dark red brick office block (officially 125 Shaftesbury Avenue) looming ominously behind. Beyond that, I can tell you, is New Compton Street.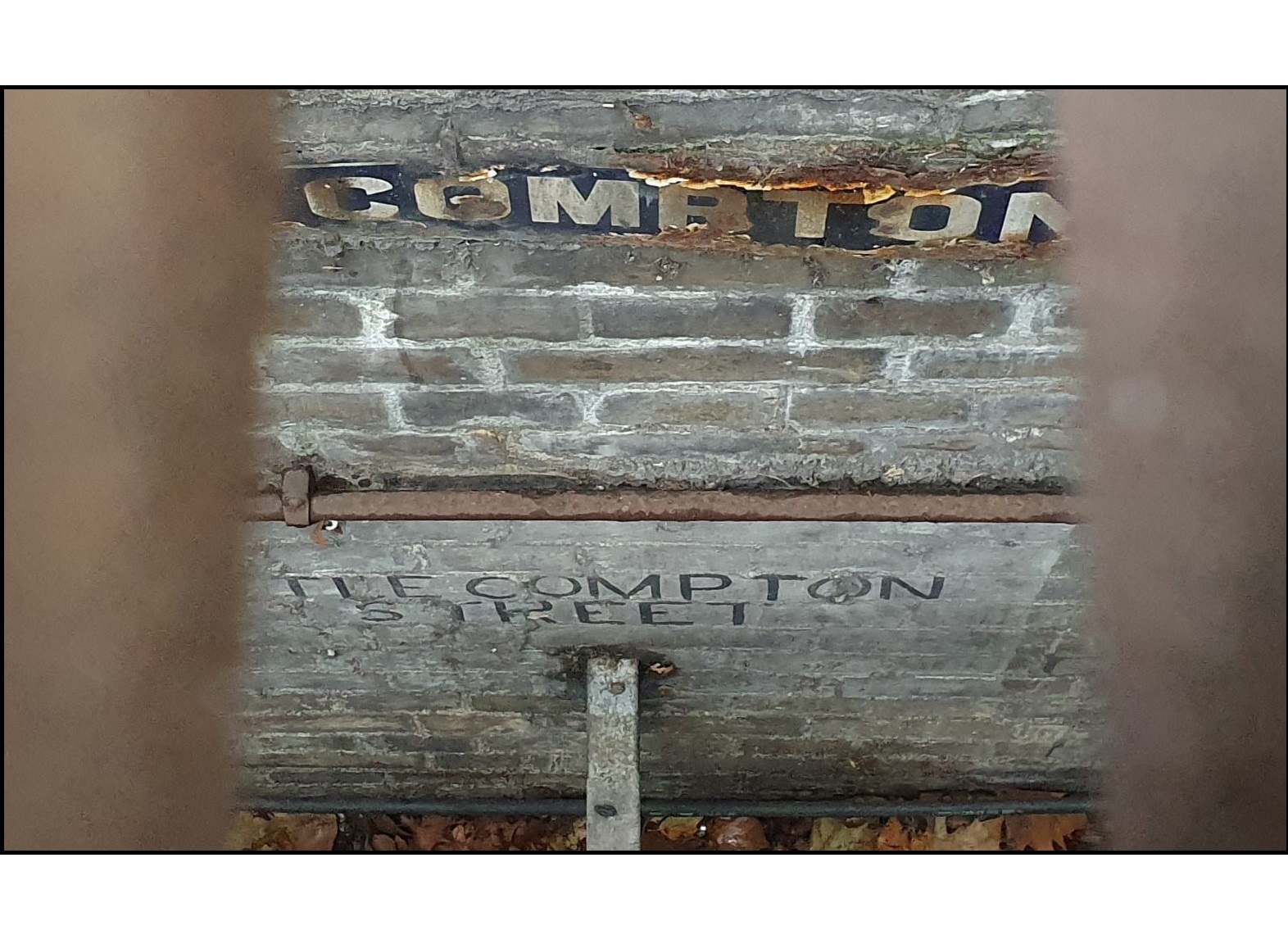 ← What is most obvious from this picture is that I'm a rubbish photographer and that the signs in question are not in the most convenient position
Wikipedia claims that the part of Old Compton Street nearest you was at one time called Little Compton Street, and that this Little Compton Street continued across Charing Cross Road to the east, through what is now the office block, meeting New Compton Street beyond. I started doing some research to confirm this, using the useful website Old Maps Online, and this is what I learned:
In the 1720 'Stowe map', New Compton Street was called Stidwell Street (the western half) and Kendrick Yard (the rest). Old Compton Street was just called Compton Street, which makes sense if there was no New Compton Street. I must confess that at this point I got a bit sidetracked into the origins of these names …
Compton derives from Henry Compton (1632-1713), one time Bishop of London, or his brother, the cavalier Sir Francis Compton (1629-1716) who built what is now Old Compton Street, was married four times, was MP for Warwick and a Lieutenant-Colonel. They sound an interesting family.
In 'Some Account of the Hospital and Parish of St. Giles in the Fields, Middlesex' (1822), John Parton claims that Stidwell was a corruption of Stiddolph, after Sir Richard Stiddolph (or Stydolph), a baronet and High Sheriff of Surrey, who was given the land by Charles II. Kendrick's Yard was named after 'an eminent parishioner and vestryman' of around the same period, although I'm not sure what exactly made him eminent. Parton considered the whole area 'very poor' and 'meanly built' and noted that it was occupied mostly by French Huguenot refugees.
After several years of little change, the 1870 Ordnance Survey Map reveals that Compton Street had become Old Compton Street, and – finally – the part east of Greek Street was labelled Little Compton Street, making it about 100 metres long. Stidwell Street and Kendrick Yard had become New Compton Street but this started at Charing Cross Road, so Little Compton Street did not cross Charing Cross Road, as the Wikipedia entry claims.
By 1914, the Ordnance Survey dropped the name Little Compton Street. So that street's life, like its length, was short – just long enough to have a utility access tunnel named after it.
In 1982 the 125 Shaftesbury Avenue office complex was built, obliterating most of the Charing Cross Road end of New Compton Street; its first few metres remain as a now nameless yard.
I knew that lost roads can leave their shadows in books, letters, postcards and other documents – even films; but it is rare indeed to find physical evidence in situ and over 100 years old, even if you do need to get your knees dirty to see it. Perhaps a B+ to Wikipedia on this occasion, and a note for me to investigate the Compton family a bit more.
---
Nearest Stations: Leicester Square, Tottenham Court Road
Selected Bibliography:
Parton, J. (1822) , Some Account of the Hospital and Parish of St. Giles in the Fields, Middlesex, London, Luke Hansard & Sons
Credits:
Photographs: © Mark Pessell 2020